Highlights
The Schools Programme kicked off the 2013 Storymoja Hay Festival with 2 days full of fun, activity and learning in events ranging from art sessions, to nature history, fab lab robotics, storytelling, and creative writing. Teens had opportunities to speak to experts and explore career options, creative writing skills, art workshops, science experiments, nature history (dinosaurs!) and so much more.
Over 50 schools from the Nairobi and the environs brought in more than 1000 children on the first day and over 4000 children on the second day.
On Thursday preteens and teens had a chance to work a with a science and robotics team from the University of Nairobi. Teens had the chance to converse with Dr. Mukesh Kapila about his life as a human rights activist ; with Florence Ambayo on the choice of careers; with Dr. Auma Obama on Sports & Social Change; with Nii Ayikwri Parkes on Image and Truth reflected in Poetry. They also had a chance to explore the art of writing with Children's and YA author Jenny Valentine.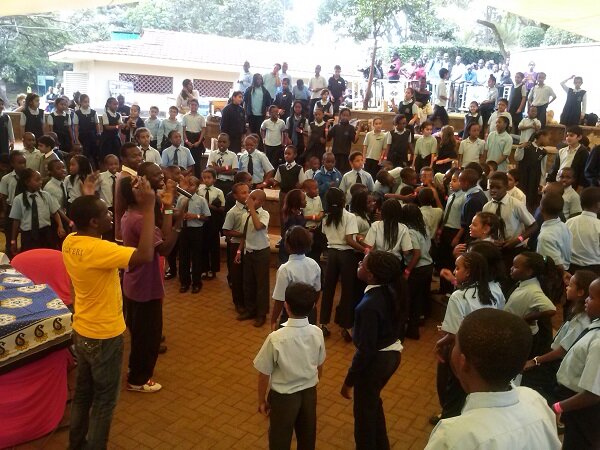 Friday saw the Read Aloud at midday receiving support from Kenyan pop soul band Sauti Sol. More than 2000 children went wild upon recognizing one of their favorite bands on site – an appearance that was kept a secret and which saw the band hiding out in the Pink Lounge for more than an hour until all the kids could be done with their morning activities. It was worth the surprise and expressions on the children's faces!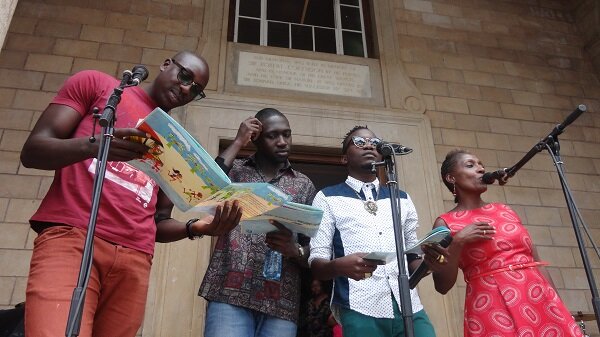 The Schools Programme ended with a round of storytelling from Muthoni Garland, Atinuke and Mara Menzies as well as art and creative expression workshops with Michael Onsando and Dayan Masinde.
Saturday offered a wealth of activities and experiences in family oriented sessions, including Mum/Dad and me sessions for 6 to 9 year old, Creative expression classes for 10 – 13 year olds and Creative Writing Workshops, Theatre Workshops, Conversations with personalities and authors, Hackathons and Career advice session for older teens.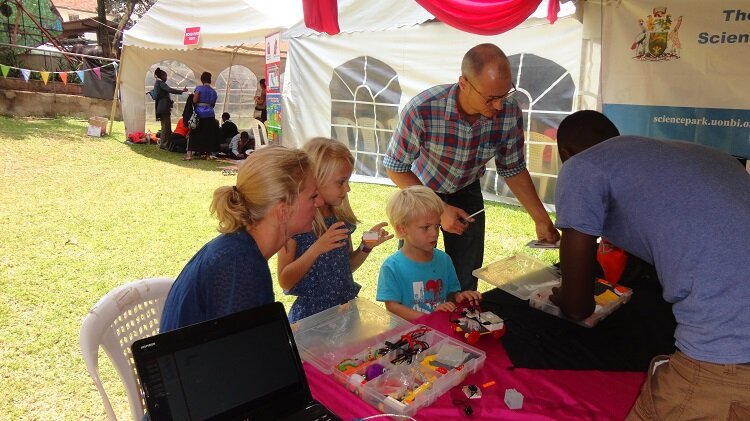 Although, Thursday and Friday accommodated Masterclasses for Authors & Illustrators, Saturday was the official beginning of activities and conversations meant for a general audience.
Saturday kicked off with The Wangari Maathai Memorial Lecture delivered by Dr. Mukesh Kapila at the Louis Leakey Auditorium. The title of his lecture was: Why are we Cruel?
Saturday also saw Storymoja Hay Festival Writing Fellows Nduta Waweru, Linda Musita, Wanjeri Gakuru and Ruth Kenyah read their writing and discuss their writing journey over the course of the 1 year fellowship.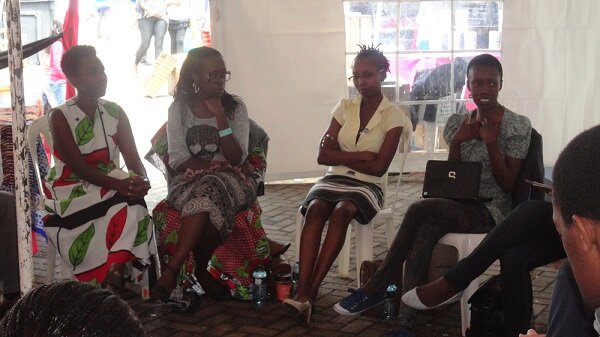 Saturday morning also saw the filming of various documentary film screenings including the film series presented by Princeton Institute for International and Regional Studies, the Princeton Atelier &the Program in Visual Arts of the Lewis Center for the Arts, & by the Princeton Environmental Institute.
The films The Matriarch, Curse of the Gazelle King, Nature's Nurturers, Re-alignments: A Zebra's Story, The Lost Boys of Laikipia were screened and followed by a Q&A with the filmmakers; Muhinza Bushoki, Kevin Midigo, Loise Njagi, Maryanne Wangui Njuguna, Victor Oloo and teaching assistant Karim Kara.
The morning closed with a session titled Voicing The Unspoken moderated by Njeri Wangari and panelled by Warsan Shire, Dr Neal Hall and Dr. Mongane Wally Serote.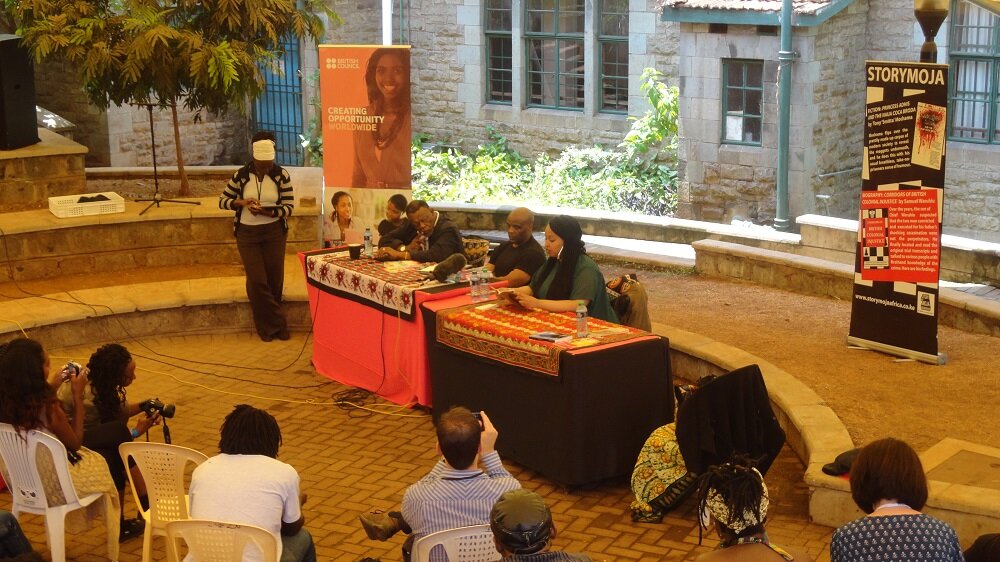 By mid-afternoon tragedy hung over the festival site as news of a shooting attack on the nearby Westgate Mall begun to trickle in backed up by the sound of sirens and military helicopters.
Even so the writers, panellists and organisers held fort until the end of the day when the official announcement was made announcing that the festival was cancelled in sympathy and honour of those killed at the Westgate Mall. The announcement also expressed concerns for attendees of the festival in view of such a violent attack happening so close.
By the morning of Sunday 22nd September, the festival received confirmation that a guest of the festival Professor Kofi Awoonor had been killed in the Westgate Terrorist Attack.
In a message to the Storymoja Hay Festival goers, Dr. Auma Obama wrote:
"What happened at the Westgate Mall in Nairobi on the 21 September 2013 is NOT the world that was imagined when the theme 'Imagine the world' was coined for the Story Moja Hay festival. None of us could imagine a world that within seconds could turn a harmless shopping spree into a nightmare of terror, blood, death and mayhem. Certainly not Prof Kofi Awoonor, poet and diplomat, who had come to Kenya to support and give his wisdom to the greatest of causes; the education of children and the wider community into the culture of reading and the acquirement of knowledge through books – Not when he and his son walked into the Westgate Mall on that tragic day to be confronted with an armed attack that resulted in his demise.
It is hard to accept, to imagine, that because of this heinous act we have lost such a great and powerful literary personality. This is a great loss, not just to the African continent, but to the whole literary world. His death is proof of the senselessness of such acts. Sadly in taking his life, those who did this also took away a part of their own heritage. Because what Prof Awoonor gave with his work was not exclusive to his homeland Ghana, nor to the African continent. It was and is a contribution to the enrichment of our world as a whole."
In the same vein, children's author Atinuke said:
"The festival was cut short this year. But it will come back. Again and again and again. And I will come back to it with stories, and with hope.
Because over four thousand children eagerly attended the festival during its three short days. Children who deserve to be inspired. Children who deserve to express themselves creatively and passionately as they grow. Children who deserve to dream and hope and laugh.
Those children deserve to be free from terror. We all do. And they deserve to read as much as they want of the best of books that there are, to open their eyes and hearts to the whole wide world.
This is what Hay festivals worldwide are about. An opposite to terror. And they will continue, beautifully, hopefully, creatively."