Jaza Matatu Na Vitabu Book Drive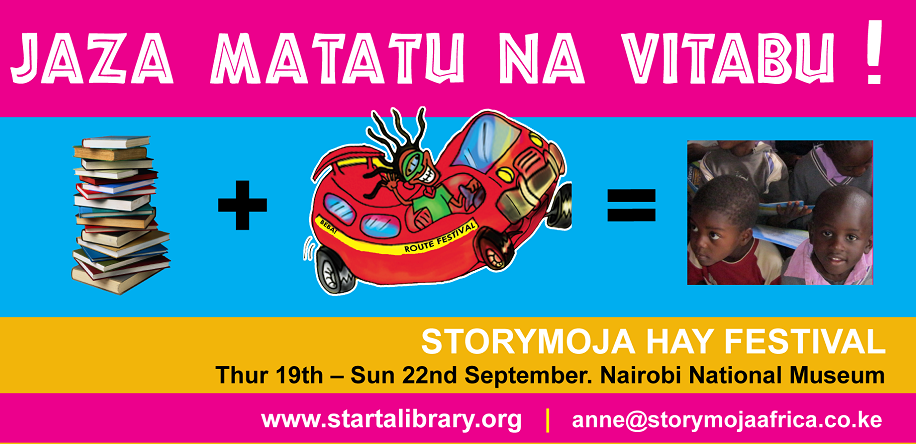 Start a Library is an initiative under Storymoja that aims to excite children about reading for pleasure by making books readily accessible to them. With the support of interested partners, the campaign intends to create and support libraries in primary schools and stock them with extracurricular books.
This year at the Storymoja Hay Festival, Start a Library is launching the "Jaza Matatu na Vitabu" campaign.
Statistically,
Only 2% of public (government) primary schools have libraries in Kenya!
According to the Uwezo report 2012,
1. Across East Africa, only 1 in 6 pupils in Standard 3 passed a Standard 2 English test.
2. Two out of three pupils in Standard 3 across East Africa are not able to pass basic tests in English, Kiswahili or numeracy at the Standard 2 level.
Start a Library definitely with your help aims to bridge this gap.
How will this be done?
Through the 'Jaza Matatu na Vitabu campaign', Start a Library aims to collect a possible 6000 books which will be donated to different public schools in the country. This will be done through various Library installations.
So far through Start a Library, 37 public schools situated in Nairobi, Rusinga, Lamu, Mombasa have benefited from this initiative.
How can you participate?
Do you have books (Storybooks and educative books) that you would want to give away to the less privileged schools?
Join Start a Library at the Storymoja Hay festival at the National Museum, from the 17th to the 22nd September 2013 and get a chance to donate a book to the Matatu.
Please contact us below: