SMHF 2012-2013 Fellows
Home
SMHF 2012-2013 Fellows
The 2012-2013 Storymoja Hay Festival Distance Creative Writing [Fiction] Fellowships
Ruth Kenyah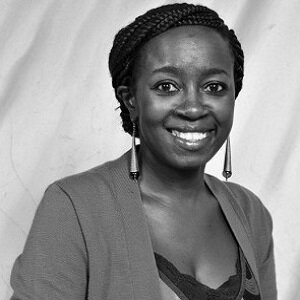 Bio: Ruth Kenyah was born and raised in Nairobi. She has a BA and an MBA in Political Science and Philosophy from the University of Nairobi. She sees herself the way John Steinbeck described, as "a lumbering soul but trying to fly". Ruth's favourite books include One foot in the Grave by David Renwick, The Great Gatsby by F. Scott Fitzgerald and Land without Thunder by Grace Ogot.
Excerpt from Ruth Kenyah's Short Story:
"Akoth"
Except for Father Alube's voice and the misplaced cheerful chirps of birds and insects, the graveside was unusually silent. This was a stark contrast to the cacophony which ensued shortly after news of her father's death reached them. Francis Oygui had died after a tragic road accident on his way to Kisumu from Siaya where he was going to visit relatives. He'd died the way no man should—alone and far from home. When the report of her father's demise spread, their small homestead became overrun by family, friends and relatives who came to give their condolences. The funeral vigil also started during this time and a temporary shelter was built for visitors on the small grassy compound outside her parent's house. Every day the visitors sat around talking in hushed tones and singing mournfully and at night a huge bonfire was lit where they could sit around to escape the cold. At first, Akoth was grateful for their guests' presence; their sympathetic doting distracted her from the fearful fluttering in her chest and their doleful dirges thawed the numbness she'd felt since receiving news of her father's death. They were just as kind to her mother who had since shut herself in her room and refused to get out of bed. But all the freely offered empathy came with a price. When the heat of the day bit them and the night brought a bristly chill, their visitor's giving turned to grievance and their consolations became demands. "Empty bellies cannot produce strong voices," they said. "The cold night is gnawing on our skin. We need something warm in us. How are we expected to help with the funeral if we starve to death ourselves?" That is when Akoth and her mother found themselves in a case of reversed roles. Instead of people cooking for them, they had to cook, instead of being served, they served, endlessly: copious amounts of rice, vegetables, ugali, fish, meat and tea. Throughout the seven days of the vigil, the mourners issued a string of demands which were as varied as they were detailed. Some wanted tea with no sugar, others could not drink tea without milk, for some the milk was too much or too little, others would not eat ugali without omena, while others could not eat anything made with the only cooking fat in Akoth's mother's kitchen.
Linda Musita
Bio: Linda Musita is a writer, editor and lawyer. She has been writing since she was fourteen years old. She writes both fiction and nonfiction. She is currently working on the first draft of her first novel. She has been considering the idea for a year and the working title is Papoose.
Linda wrote an outline last year, October and began work on the first draft in November. She tries her best to write in 5000 words per week.
Linda loves reading and her favourite authors are Edgar Allan Poe and David Mitchell. Linda has set a target to read 200 books by the end of 2013.
Excerpt from Linda Musita's short story:
"Dire Straits"
"Bitch! Stand properly and relax, they bite around tense muscles."
Naked from my waist down, I look at the dogs, saliva dripping from their long tongues.
"Stand properly!"
Tears roll down my cheeks as I stand akimbo and relax my muscles prompting blood to flow from my vagina. The boss had called me ten minutes earlier and told me it was time for the licks. He knew it was that time of the month, thanks to the stupid form I had filled, and he made me remove my panties and tie my maid's dress in a knot right beneath my breasts.
"Contractual obligations. Fulfill them or I let the dogs tear you to your death."
The first dog licks the blood on the concrete floor of the garage and then eagerly licks my vagina, thrusting its tongue into me to get whatever is yet to come out.
The warm impatient tongue is accompanied with disturbing groans that make me wonder whether the animal is, indeed, a dog or something from the underworld.
Boss David squats and pats the dog affectionately. He smiles at me.
"Good job."
My muscles tense and the dog's tail goes up like a spike. Bad sign, I tell myself and relax my muscles. The dog, maybe grateful for the submission, pulls its head out, looks up at me gratefully just like Boss David had done earlier and then licks the next release of blood. It feels nice for a second, and I shut my eyes in orgasmic bliss as the hound brushes my clit clean.
David holds my leg and when I look down, his dong is as erect as a healthy Ugandan banana.
Wanjeri Gakuru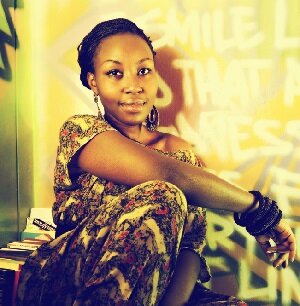 Bio: Wanjeri Gakuru is a print journalist and creative writer. She holds a BA in Journalism and Media Studies and blogs some semblance of Literature at www.wanjeri.com.
Excerpt from Wanjeri Gakuru's short story:
"Who Needs a Private Investigator When You Can Catch the Bastard Yourself"
Through tinted sunglasses Zeinab threw furtive glances at a laughing couple sitting three tables away in the noisy city bistro. In a short, curly black wig and scarf swathed around her neck, her disguise was complete. Heart racing, hands clammy with sweat, Zeinab continued to keenly observe the pair leisurely enjoying a late lunch.
It had been six weeks since she'd discreetly began to trail Musa to dainty little cafes in every corner of the city. Now there was no doubt about it: her husband was seeing another woman. The red leather upholstered booths took up one end of the restaurant with intimate two-seater dining tables available at the front. Sinking deeper into her seat and with a slight tremor in her hand, Zeinab held up a menu booklet to her face just like the article 'Who Needs a Private Investigator When You Can Catch the Bastard Yourself' had suggested.
When carrying out close range surveillance, dress in a manner and style unlike your day-to-day inclinations. However, remember to blend in with the environment. Keep your face fully hidden but make sure that your eyes are focused on the target at all times.
For a woman accustomed to only having her face visible to the world, nothing spelt 'unlike your day-to-day inclinations' like a pair of hip-hugging blue jeans, a white v-neck top and a grey boyfriend jacket. Zeinab had dissolved into tears when she first stepped in front of a mirror in the clothing store's changing room, and the shop attendant had scrambled to reassure her of her chic look. Such glorious lines and curves had sprung into view; it was like being naked in public, only better. In this second skin Zeinab felt alive. Present to the world.
Nduta Waweru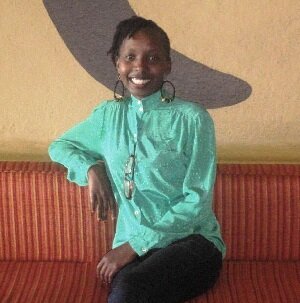 Bio: Nduta Waweru is a fiction writer, poet and editor at Lesleigh Kenya. She lives and works in Nairobi, Kenya. She blogs at Bee Illustrated.
Excerpt from Nduta Waweru's short story:
"Looking at the Horizon"
The tension at breakfast was palpable. Cliff could not meet my parents' eyes; he even had a hard time looking at mine. We eat in silence, only for Papa to break it by asking about my schedule for the day. "And you, Cliff, what are you up to today?" Papa continued with his questions.
I looked at Cliff and saw his Adam's apple moving.
"I am headed back to the city," he replied.
"So soon, you just got here," Ma said with her eyes wide in surprise.
"Stay another day. Go tomorrow," Dad said, insincere, as if to sound polite.
"I am afraid I can't. I might end up losing my job."
"Next time come and stay longer, ey," Mama, always the good woman, said.
We went about our business: Mama went to see the calving cows, Papa to check with the banks, and me to see Cliff off. He looked sad.
"When are you coming back?" I asked him.
"I don't know. Ma and Pa did not look so happy to see me."
"What did you expect? After what you put them through?"
"Don't even start. I had enough yesterday. They said I abandoned them."
"You did."
He sighed and looked at me. "You would not understand. The city offered me a better life than this," he said with a wave of his hand. "I don't think I'll ever come back. My place is in the city, with my parents."
"Shame," I said, "to only think of yourself, and not of the two people who loved you enough to forget that they picked you from the trash and took care of you like their own. Where were your parents then?"
Program Faculty and Staff
Lily Mabura – 2012-2013 Fiction Mentor
Lily Mabura is a fiction and children's author. She is currently an Assistant Professor of English at the American University of Sharjah.
Her literary awards include the Jomo Kenyatta Prize for Literature, Kenya's National Book Week Literary Award, and the Ellen Meloy Desert Writers Award. Her short story, "How Shall We Kill the Bishop?", was shortlisted for the 2010 Caine Prize for African Writing.
Her publications include a first novel titled The Pretoria Conspiracy and four children's books: Oma, Saleh Kanta and the Cavaliers, Seth the Silly Gorilla, and Ali the Little Sultan.
Her latest book is a collection of short stories titled How Shall We Kill the Bishop and Other Stories (African Writers Series, Heinemann-Pearson, 2012).
M.Mushfiqur Rahman – Assistant Mentor and Distant Visiting Writer Educational Background and Biography
Bachelor of Arts (English Major and Asian Studies Minor), Cornell University, USA
Contact and Website Link: http://mushfiqrahman.com/resume/
Aleya Kassam – Fellowship Program Administrator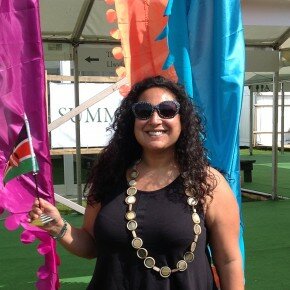 Bio: Aleya Kassam is the Producer of the Storymoja Hay Festivals, which are organised in partnership with Hay Festivals (UK). She is an avid reader and has organised many workshops to inspire parents to read with their children.
Monity Odero – Managing Editor, Storymoja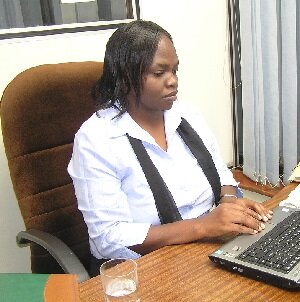 Bio: Monity Odera is the Managing Editor at Storymoja. She has many years of experience working in leading educational publishing firms serving the East African market.
Juliet Maruru – Program Publicist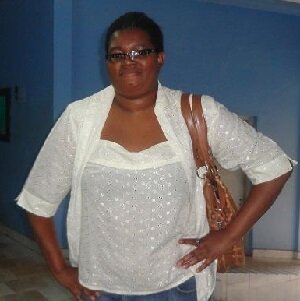 Bio: Juliet Maruru is a writer, online content manager and editor. She runs and manages the Storymoja Online Spaces. She is passionate about creative writing and reading. When she is not working with the Storymoja online forums she is working with kids, learning and discovering with them the art of creative writing, and the wonder of words. She also authors the blog She Blossoms.
If you would like to be part of the 2013-2014 Creative Writing Fellowship program, please contact us at [email protected].