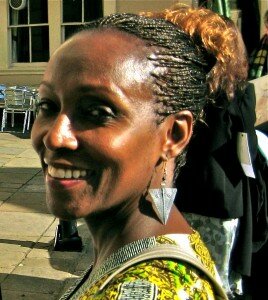 Muthoni Garland is a founder member of Storymoja Publishing, Storymoja Hay Festival, Storyhippo Creative Arts programme and http://www.startalibrary.org .
She is a social activist advocating reading for pleasure, and is involved in the Reading Revolution campaign promoting reading amongst children.
Muthoni has been published in literary journals including Kwani, Farafina and Chimurenga and in several anthologies in the USA and UK. Writing as Muthoni Muchemi, she has published over a dozen books for children including 'Kamau's Finish /The Amazing Race', which is taught as world literature in schools in the USA and UK. Her science-fiction book, 'Attack of the Shidas" was commissioned by the Kenya Human Rights Commission to stimulate discussion about tribalism in schools. Muthoni's books are available on Amazon and on Worldreader.
Muthoni is also a storyteller and has appeared on stage in Kenya, Italy and the UK.