On my twitter I tweeted that I will blog about my SMHF experience this week, and I had intended to do it so in the manner which the events I attended happened, but the passing of Prof. Kofi Awoonor in the Westgate Attack prompts me to make a tribute for/ to him, and to share what I learnt in his master writing class dubbed "The Responsibility of the African Writer".
Prof. Dr. Kofi Awoonor was a Ghanaian diplomat, a teacher and a politician during different periods of his life, and was a poet until the time of his untimely death. He studied in the University of London, and he worked for the late Kwame Nkrumah in the years 1962-1964. He had six children, among whom one is a girl. He had seven grandchildren, among whom one is a boy. He was friends to the late Dennis Brutus, the late Chinua Achebe and Wole Soyinka. He wrote two novels: This earth My Brother and Comes the Voyage at Last, a book which has been translated to German, Dutch, French and Italian. His mentor was the father of Kwame Does whose master writing class I also attended, (and who I will also blog about as the week progresses.)
A man of easy charisma and welcoming manner (he allowed me to take photos of him and even posed for me), he imparted a lot of writing wisdom on all who attended his class in a simple clear manner. He was generous with his experience lessons; answering all the questions that we threw his way and he also read us some of his poems on request.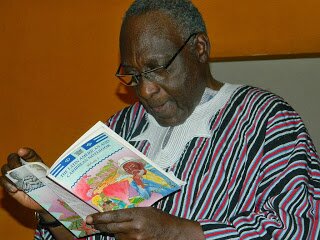 I would like to share with you all he taught us who attended his writing class on Friday 20thSeptember 2013, but I will limit this post to the four questions he posed to us. All writers should stop and ask themselves these questions.
Who are you as a writer?
This question constitutes these other questions: What is your identity. Where were you born? What are your roots? What have you grown up to be?
Where do you call home?
is where your heart is, he said, but most importantly ask yourself; Where shall you call home?
What makes you think you can write?
The ability to write something meaningful should be built from self-confidence, and the belief that you have something meaningful to say.
What would you like to write about?
A thing to remember while writing is that life is a series of parting and meetings, he remarked. He said that partings make him sad, and that death is one of life partings. He reminded that as writers we should develop the sense that death is inevitable and every emotion is legitimate. We should not be afraid of writing the reality of both.
Apart from the four questions posed, he said that the most essential part of writing a short story is conflict- a fundamental part of human existence.
***
My friends and I were grieved to learn of his death, and the news that his son also sustained injuries from the Westgate attack.
If you can, pay him your last respect. Join others at a gathering that will be held at the National Museum on Monday, September 23, 2013 from 6:00pmto 9:00pm. It has been organised by the Story Moja Hay Festival organizers.
To all those affected by the Westgate terrorist attack directly, I offer my sincerest condolences. To all the Kenyans shaken as much as I am, or maybe more: we are One in this. Things will be alright.
Rest in peace Prof Dr. Kofi Awoonor.