Caroline Mutoko is a leading radio presenter in Kenya.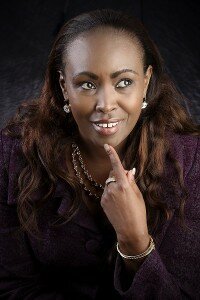 On the radio, Caroline Mutoko is known for delving deep into the minds and lives of Kenyans, touching difficult subjects. Her tone has always struck a chord with listeners. Over time this has won her impressive ratings and a place in morning radio that is part and parcel of many Kenyan's daily routine.
Radio – It's a way of Life: Caroline Mutoko has had a radio career that spans 15 years with eleven years at Kiss 100 and 4 years at Capital Fm. The morning show radio host and programme controller is without doubt the first female broadcaster to command the morning airwaves with a mix of love, charity and brutal honestly for the issues that affect Kenyans.
Kenya@50 – A Woman On A Mission: The job of media is agenda setting. Caroline believes that now more than ever, media must look at where Kenya needs to be, where Kenya needs to go and actively and boldly pursue after the conversations, personalities, issues and topics that allow that reality to unfold.
Passionately Kenyan: Many have said that Caroline came into her own in late 2007 and early 2008 as the country went through its toughest period. Mutoko who was on-air for up to 9 hours at a stretch during that period, says it was then that she found out how deeply and passionately she loved Kenya. As Kenya turns 50, Caroline plans to play her role in ensuring the agenda for the next 50 years is laid out and that the celebration of who we are is felt.
Paying It Forward: She says she plans to dedicate the next 5 years to seeking out, helping, grooming and inspiring The Next 100. The next crop of female leaders. In her words… "This job is not just an amazing platform to influence conversations and decision, provoke debate and change perceptions, it also opens doors to many people, lessons and opportunities for me that are not normally available to others. The only way to truly be valuable is to use what I have and what I have achieved, to enrich someone else's life".
Learning and Living: Because growing means constantly looking out for opportunities to learn – Caroline has recently concluded her Diploma in Women's Leadership at the HarvardBusinessSchool. She will be embarking on a Global MBA in September 2013 and is signed up to start and complete another degree in Media Studies at IESE from January 2014.
Motherhood: Caroline is also proud, delighted and humbled to be mother to a 2 year old bundle of giggles and amazing speed, who now also tries to wear Mummy's high heels – a little girl called Theodora Nduku Mutoko. Caroline adopted this lovely little girl in 2011 at 3 months old. "To give this amazing child a place to call home and someone to call Mum is a great honour and the greatest gift I have ever been given. Nduku was sent here for me. To guide me, to heal me, to save me, to teach me."